Ricey Vocabulary
The United Nations World Food Program presents a two-fold improvement opportunity for "armchair activism": improve your vocabulary and feed the hungry! This game presents you with a word and four options from which to choose. If you choose the correct meaning for the given word, you get a more difficult word to try next and successfully donate 10 grains of rice to those who need it. If you choose incorrectly, you get an easier word for the next round. The rice donation is paid for by the sponsors whose ads appear (subtly) on the site.
The better your vocabulary, the more grains of rice you donate… enjoy!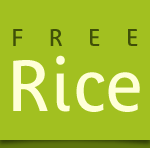 ---
You must belogged in to post a comment.