Mountain Gorillas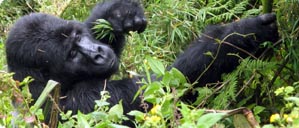 ONE. We are one. Our peoples, our nations, our various species and all aspects of nature are ONE!! And although there are lessons to be had regardless of apparent atrocities in the world, it still breaks my heart to see or hear of some (who genetically pass for human) committing acts so horrendous as to make our souls weep. How sad that humanity's greed seems to necessitate the complete domination of the environment, each other, and even extends to murder – for money!
For those who may not have heard, just about a month ago (July 2007), several members of a Mountain Gorilla family were found tortured and executed at Virunga National Park in Democratic Republic of Congo. These brutal deaths of an endangered species was apparently done at the hands of Charcoal Merchants who have been decimating the gorilla's habitat and threatening the rangers who try to protect the 700 gorillas still living in the wild.
Quick synopsis:
The Charcoal industry values at $30 mil / year and has been accused of ruthlessly harvesting Virunga's forests to fuel their industry.
Only 700 mountain gorillas remain in the wild and none in captivity. World-wide.
Seven Mountain Gorillas have been killed since January – some shot at close range, for no obvious reason
It is estimated that within a few years, the Gorilla's habitat will be obliterated if the charcoal loggers' activities remain unchecked
Many of the rangers patrolling the area and trying to help the Mountain Gorillas do so without salary or compensation
Since 1994, about 120 rangers have been killed in the line of duty.
To help:

For more information, please see:
Newsweek's Article "Gorilla Warfare": http://www.msnbc.msn.com/id/20012315/site/newsweek/page/0/
Paulin Ngobobo's blog, a day-by-day journal: http://wildlifedirect.org/blogAdmin/gorilla/
---
You must belogged in to post a comment.